Uncertainty with the Government
In the First World War, the issue of conscription had divided Canada. Conscription meant that men of a certain age were sent to war whether they wanted to go or not. The government did this because it needed more men for the army. French Canadians, however, did not like this. Canada had entered the war to support England, and French Canadians wondered why they had to fight for an English cause.
As the Second World War approached, Prime Minister William Lyon Mackenzie King knew that this would be a sensitive issue. King promised Canadians that there would be no conscription during the war. Instead, he proposed a policy of "limited liability." This policy meant that Canada would only supply as many men and as much material as necessary. In this way, King hoped to avoid the mistake of promising too many men as they had in the First World War. Read the government's response to the concern over conscription. Document 1.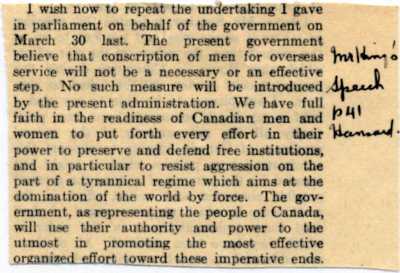 Prime Minister King's speech as recorded in Parliament's official transcript called Hansard. MHC 1321 file 928.
Because of King's promise, Canada did not have conscription at the beginning of the Second World War. Men were encouraged to join the army, but doing so was voluntary. Then came the spring and summer of 1940. Germany attacked Holland, Belgium, and France, defeating them all. Very soon, Canada became England's biggest ally. In this situation, a policy of limited liability was not sufficient. King's government introduced the National Resources Mobilization Act in June, 1940. National Registration Day came on August 20. Everyone eighteen to thirty-six years old had to register with the military.
When Canadians registered, they had to tell the military much about their personal lives – when they were born, what languages they spoke, where they worked, whether they had previous military experience, and about the condition of their health. After they had registered, the military would call them up for military training. This was still not conscription. The National Resources Mobilization Act and registration were only for home defense. Prime Minister King promised that these men would not be sent into battle overseas.
Even though this military service was for home defense, and these soldiers might never have to fire a shot, Mennonites did not want to participate. Church leaders went to Ottawa to negotiate with the government. While there were difficult discussions with the government there were a few members of the government who were sympathetic to the Mennonite situation. read article 1 article 2. A few church leaders felt they could not in good conscience offer alternative service and created their own committee known which included David Reimer, Jacob Barkman, David Schulz, and Jacob Bartel.