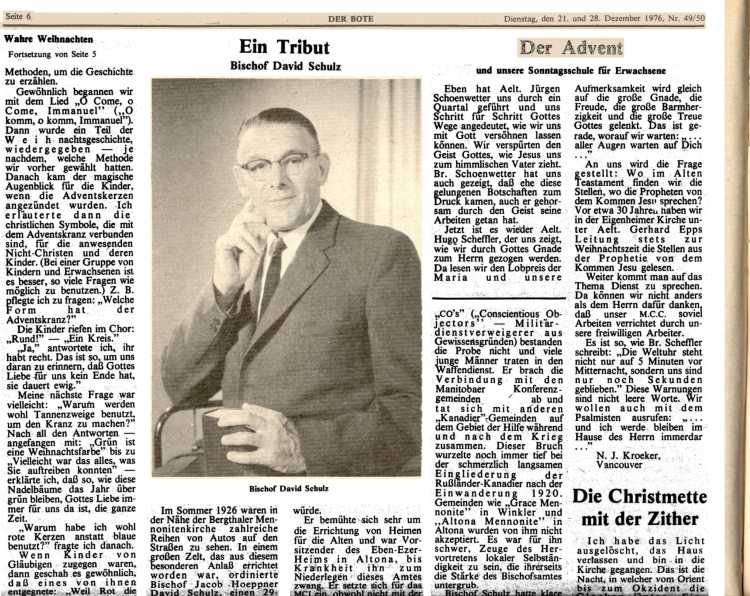 Page 2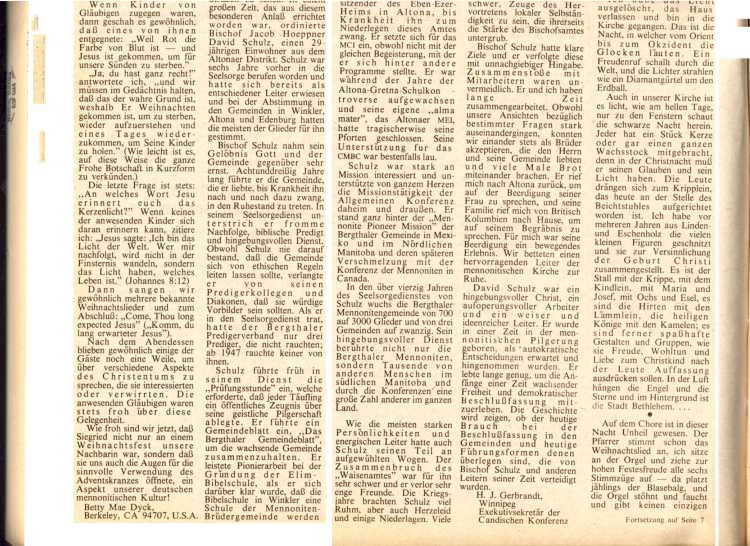 Tribute to David Schulz, in Der Bote December 21 and 29, 1976, p. 6, by Henry J. Gerbrandt.
English Translation:
A TRIBUTE
~
Bishop David Schulz
On a Sunday in the summer of 1926 many rows of cars were parked in the vicinity of the Bergthaler Mennonite Church in Altona. In a large tent erected for this special occasion. Bishop Jacob Hoeppner ordained David Schulz, a 29-year old resident of the Altona district. Schulz had been called six years prior to this into the ministry and had shown distinct leadership qualities already. This was evidenced when votes were cast in the Winkler, Altona and Edenburg congregations giving him a good majority.
Bishop Schulz took his commitment to God and the congregation very seriously. For 38 years he led the church which he loved dearly, until illness eventually forced him to retire. In his ministry he underscored pious discipleship, Biblical preaching and sacrificial service. Although Schulz never insisted that the church be led by ethical rules, he demanded of his minister and deacon colleagues that they be worthy models. When he began serving the Bergthaler Church only 3 ministers of the ministerial group did not smoke, however by 1947 none of them smoked.
Early in his leadership role Schulz introduced the "Testimonial" program which required that every baptismal candidate had to give a public testimony of his faith journey. He established a church newsletter, "Das Bergthaler Gemeindeblatt", in order to keep together the growing congregation. He pioneered the establishment of the Elim Bible School when he became convinced that the Winkler Bible School would be a Mennonite Brethren institution.
He put much effort into the establishing of homes for the aged and was Chairman of the Eben-Ezer Home in Altona until illness forced him to give up that position. He supported the M C I, although not with the same zeal that he had for other programs. He had grown up during the Altona-Gretna school controversy, his Alma Mater being the Altona M E I, which tragically closed its doors.
His support of C M B C was lukewarm. Schulz was keenly interested in missions and was a strong supporter of the mission activities of the General Conference at home and abroad. He was fully supportive of the Mennonite Pioneer Mission work in Mexico and in northern Manitoba, and also after its later absorption by the Conference of Mennonites in Canada.
During Schulz's 40 years of ministry the Bergthaler Church membership grew from 700 to 3000, and from 3 congregations to 20. His devoted service touched not only the Bergthaler Mennonites but also thousands of other people in southern Manitoba and through the Conference a large number across the country.
As is the case with most strong and energetic personalities, Schulz also had his share of troubled waters. The collapse of the 'Waisenamt' was very difficult for him and he lost close friends. The war years brought much acknowledgement to Schulz, but also heartaches and defeats. Many CO's [Conscientious Objectors] could not stand up
against the pressures of the time and joined the military. He broke his tie with the Manitoba Conference and joined with other 'Kanadier' churches in reference to relief work during and after the war. This break continued to be deeply felt during the painfully slow integration with the Russian-Canadian Mennonites of the 1920's immigration. Churches such as Grace Mennonite in Winkler and Altona Mennonite in Altona, he did not accept. It was difficult for him to witness local groups develop independently, thereby undermining the office of the bishop.
Bishop Schulz had clearly set goals which he pursued with unswerving devotion. Clashes with colleagues were inevitable. He and I worked together for many years. Even though our views in reference to certain questions differed strongly, we were always able to accept each other as brothers who loved the Lord and His Church and we broke bread together many times. He called me back to Altona to speak at the funeral of his wife, and his family called me home from BC to speak at their father's funeral. For me his funeral was a deeply moving experience. We laid to rest an outstanding leader of the Mennonite Church.
David Schulz was a devout Christian, a sacrificing worker and a wise leader endowed with ideas, He was born at a time in the pilgrimage of the Mennonite Church when autocratic decisions were expected and accepted. He lived long enough to experience the beginnings of an era when growing freedom and democratic decision-making and other leadership forms came to the fore. History will show whether the current decision-making and leadership forms will surpass those forms which Bishop Schulz and other -leaders of his time defended.
H J Gerbrandt
Executive-Secretary
Conference of Mennonites in Canada
Winnipeg
[Der Bote Dec 21 & 28, 1976]